About
A
t Strathcona Tender Loving Daycare, we provide your children with a safe place to learn and play with other children of the same age. In addition to our fun environment, we also place a focus on helping children develop healthy eating habits by providing them with nutritious meal and snack options, prepared fresh daily by our on-site cook. For more information on our childcare programs, give us a call today.
Mission
O
ur mission is to provide safe, affordable, high quality childcare for the children and the community. In doing so, we strive to support families in reaching their goals.
Philosophy
W
e believe that children thrive when they are provided with nutritious foods, adequate rest and opportunities to play both indoors and outdoors in a safe stimulating environment supported by warm, nurturing and knowledgeable caregivers. Our program is designed to provide each individual child with opportunities to grow to their full potential.
We believe the child's family plays the most significant and influential role in the child's life, therefore we strive to develop a partnership and mutually supportive relationship with each family to promote positive outcomes for children. We have an open door policy for families and encourage parents to become involved within the centre to facilitate their children's growth and development.
Inclusive Childcare Following Pyramid Model
P
yramid Model is a conceptual framework of evidence-based practices for promoting young children's healthy social and emotional development. Building upon a tiered model of support, the framework provides universal supports as a foundation for an inclusive learning environment, targeted social and emotional supports, and intensive supports to respond to challenging behaviour. Each tier offers strategies for individualizing supports for children with diverse learning abilities.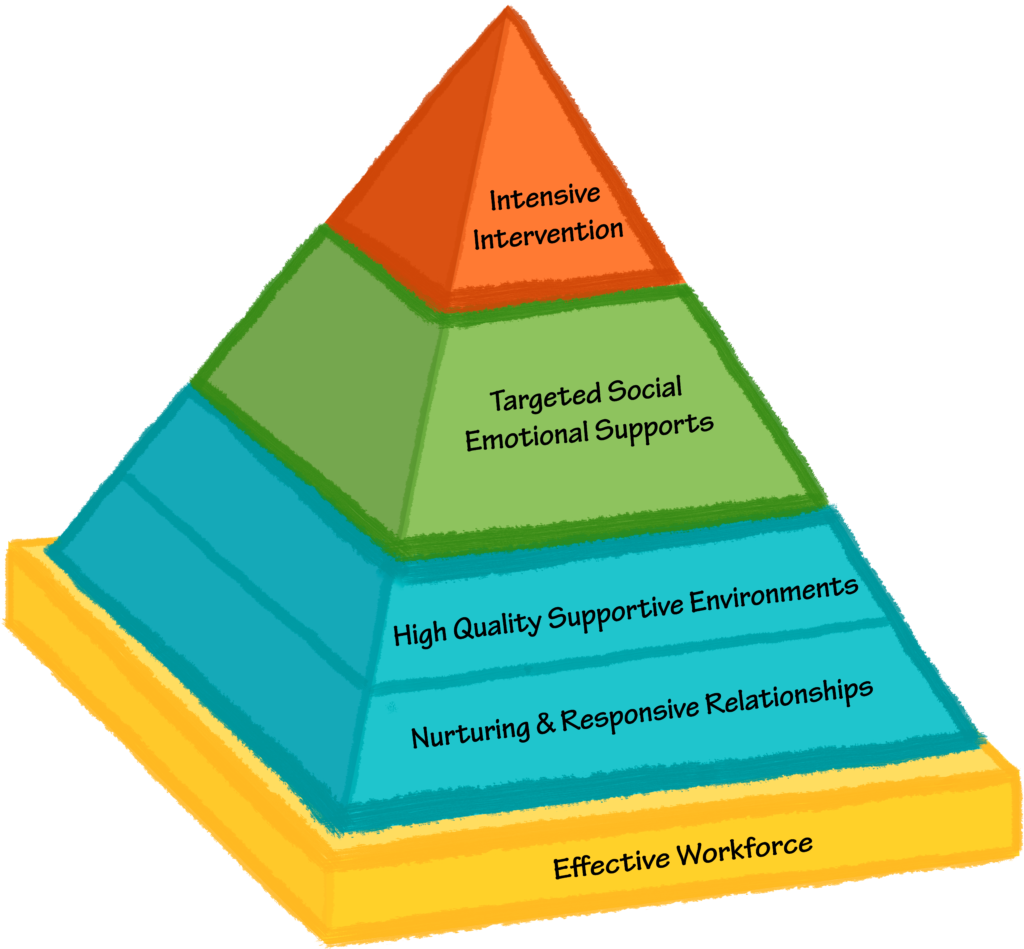 Music Enrichment
Music is fun and a powerful avenue of learning. Therefore, we have a music teacher coming weekly to familiarize children with different musical instruments such as violin, guitar, drum etc. This gives children an opportunity to appreciate different sounds and a chance to create their unique sound and music. You will be surprised to how engaged children become with the music. It also helps them in the process of relaxation, making their day more enjoyable.
We offer ongoing music and movement sessions facilitated by visionary performing arts and music school.
Parent Communication
We highly value the input from the parents of the children that attend our program. Therefore, we have and active communication system which provides current activities, nutritional information, pictures and learning stories online. This can be accessed through a secure login account that is provided to the parents.
Yoga
Yoga is an ancient art of breathing control and stretching. If done properly, it helps in focussing and maintain calmness in everyday life. We are happy to inform that we also provide weekly Yoga lessons to our little one. It starts with fun but soon parents notice that their loved ones are showing them 'flamingo pose'. Yoga helps children to see our world slightly differently and also gives them much loved body stretch in the form of different poses. Children love their Yoga lessons.
Nutrition
We believe that good nourishment is very important aspect of a child development. Therefore, we give a very high priority to good quality nutrition and we are committed to promoting positive eating habits. We provide freshly prepared hot lunches that is prepared fresh every day by a full-time cook. Morning and afternoon snacks and lunches are provided daily along with milk or water. The cook prepares snacks and lunches and develops the menu using the Canada Food Guide. Weekly menus are provided to the parents and daily updates of their child's food consumption is also available. We update our menu at regular interval to include seasonal variations. We have been applauded by parents and children for providing the best quality and delicious food. We feel humble about these compliments.
Customer Testimonial
I have 1 child in this daycare and have been very happy with the level of care. My child started a year ago in the infant room at age one. The staff there was absolutely exceptional. Just top notch ladies that really care and provide a lot of information to parents. My child has since moved into the toddler room which has been a bit more chaotic as there are more kids. I have found the care to be still at a very good level and I find my child is learning a lot. I know they really keep them active and busy. I am very impressed with the cleanliness of the daycare and the meals. The meals they get are just wonderful and I find my son's eating is not picky, likely because of the variety of foods they provide. Overall this is a very fine daycare center with wonderful staff. They all know my little guy's name and it feels like a family.

– A parent